Services for Teachers of the Faculty
Below you will find our most important advisory formats for digitally supported teaching and our hardware for teachers.
Record your lecture with Lecture2Go
Your lecture is available as an online resource beyond the attendance date and can be used later in other teaching and learning contexts. Our student assistants record your lecture and publish it on Lecture2Go, the video portal of the University of Hamburg.
Short presentation in courses (e.g. AGORA, OpenOlat)
At the beginning of the semester, we offer a short presentation of  AGORA or OpenOLAT in your seminars and lectures. We are also happy to present further functionalities to your students that are to be used in the seminar context as a collaborative working environment and as an alternative proof of achievement to homework or papers.
eCoaching: We support your eScenario with eTutors
You would like to support your next seminar with AGORA or OpenOLAT, but you are not familiar enough with the functionalities of the eLearning platforms or with possible didactic scenarios? Or do you already have an idea of how to make your seminar more didactically appealing by means of a virtual learning scenario, but do not yet know whether and how OpenOLAT or AGORA can be used for this purpose?
We offer you coaching during the semester for scenarios like these: An eTutor will work with you in a preliminary discussion to design the possible implementation in AGORA, OpenOLAT or other UHH platforms and will support you regularly during the course of the seminar in the realisation.
Our workshop offers
The AGORA team offers workshops on a regular basis. In these workshops, you can be trained in the use of AGORA, the eLearning platform of the Faculty of Humanities, and get to know other tools that support and optimise your work in research and teaching. The workshops are mainly aimed at teachers and tutors from the Faculty of Humanities, but are also open to teachers from other faculties. As soon as we offer workshops again, you will find them announced on our websites
 
If you are a contact student at the University of Hamburg, please contact the Centre for Continuing Education (in german) responsible for you directly, which will provide offers specially tailored to you.
Throw microphone/catchbox to integrate questions into the lecture context
Since December 2017, the eLearning Office of the Faculty of Humanities has had a so-called "catchbox". This throw microphone is particularly suitable for larger lecture halls to incorporate questions from students via the sound system of a lecture hall. In contrast to the conventional method of passing around an extra handheld microphone, this box is literally "thrown". In our experience, this creates a much livelier discussion round and students are also physically activated to contribute.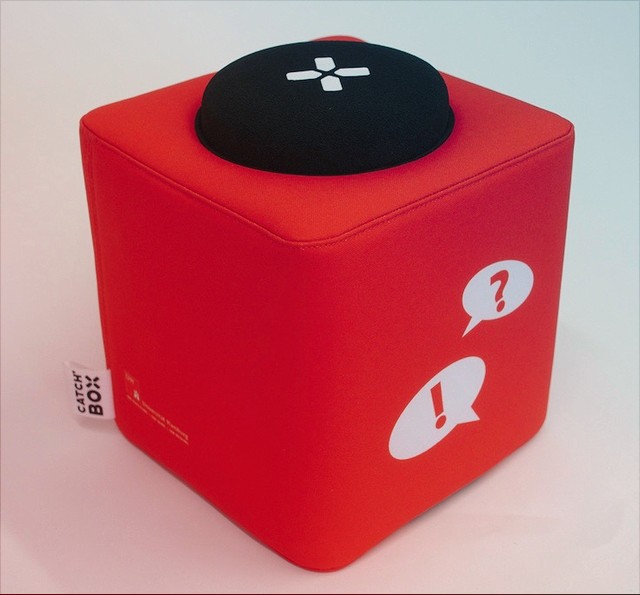 Picture: dl.min
You can get a first insight into how it works on the manufacturer's website (in german).
If you are interested, we will be happy to advise you and train you in the use of the device. Please contact us by e-mail: ebuero-geisteswiss"AT"uni-hamburg.de.
Login information
If you are interested in a short presentation, an eCoaching, an L2Go recording or in borrowing hardware, please contact us (contact) as early as possible before the start of the semester. . Requests will be dealt with positively in the order in which they are received until the available capacities are exhausted. Please include the following information in your email:
Type and title of the course including the department or institute as well as the expected number of participants.
For the use of the tablet class set: concise description of the didactic scenario and the expected added value of tablets in your course from the Humanities eLearning Office.
For Lecture recording with Lecture2Go:  a brief justification of why your lecture could also be of interest to a wider audience, from the Humanities eLearning Office.
For seminar support with an eTutor: a brief justification of why your seminar could be didactically enhanced by the accompanying support of the eTutor in AGORA matters.
In order to review our offer and modify it if necessary, we will ask you to fill in an evaluation form after the support has been completed. Registering your needs with us also constitutes your consent to participate in the evaluation (the sheets can be filled out with Adobe Reader after downloading):